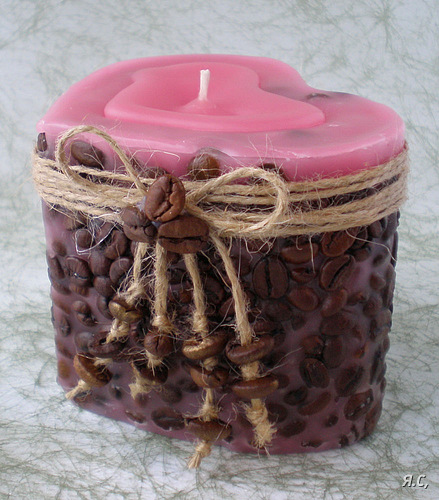 Today we are going to make gifts for Valentine's Day. We will make candles by hand. What can be better than to give a piece of its heat your loved one
I tried to write as detailed as possible, for such "users" like myself
For most candles you need:
- The usual candles, colored or white. You can melt old cinder or buy cheaper in the store. advanced – the mass of the candle specialty stores;
- Wax crayons from stationery. note that they were just wax instead of plastic (similar in appearance).advanced – a special dye from specialty stores;
- Wick. we use the one in the candlelight. You can also weave a braid of threads, such as floss, or buy a wick in a specialty store;
- Coffee or any other decorations. it may be food (pasta, beans, peas, cinnamon sticks) or any other beautiful things that are in stock (shells, pebbles, dried flowers, but at least carnations and bolts – for men will be relevant).
From scrap materials:
knife, scissors, glue or double-sided adhesive tape, a stapler (not required), awl, ruler, cardboard (can be from the old box), a couple of sheets of paper, 1-2 tin cans (from corn, olives), baking paper / tracing paper, container that can be put on the plate (a ladle, steel mug, a small saucepan), pliers or tonkogubtsy, a pair of chopsticks (for example, skewers), lighters (preferably 2-3), cloth.
Well, decor, if you want zadekorirovat candle after manufacturing. I have a rope and still the same coffee


Do not be alarmed that so much need – in fact almost all you have at home
Proceed?

There are two ways to make a candle – simpler and more complicated. It'll show a little more complicated oba.Dlya take cardboard and cut off from his two strips about 10cm (this is approximately the height of the future spark) + 1 cm. On one strip of this retreat 1cm and conduct along with an awl – a place of bending. This edge, doing fancy "haircut" with scissors (see photo). Divide the two strips in half (useful range) and can spend an awl (or something sharp) – place the fold. Ta-dum:


Now we take a leaf of paper, bend it in half and cut out the heart, as once cut out valentines. Expand and here it is – a symmetrical heart. Now take it and leads to the contour of the cardboard. Cut.


I do everything by eye, for very precise – you can measure all the line: long strips of cardboard must be equal to or greater than the circumference of a heart:


Now sticking. If you, like me, do not like to mess with glue, then before the cut-serif for our designer to the place you just stick a strip of two-sided tape and cut it out with him. Or miss the mark now is a place with glue. Glue to the bottom of the wall-heart, from the sharp tip of the heart (here we fold), allowances out to bedplate remained steady. Excess crop, we get:


To glue the hollow heart take a small strip of cardboard 10h2sm, bend it with an awl and a ruler in half lengthwise and glue with glue or tape.
That the heart does not "crawl" (if you have reached this stage, you will understand what I mean, I've matured a hollow stapler, but I think it is possible and in any other way:


From the second strip of cardboard do the same heart, but without the bottom and smaller size (which is much faster and easier):


Now the moment – for the simpler option (remember, we talked at the beginning), you can use a jar of something and a piece of cardboard. Need is a stapler. Notice that the edges of pots were as evenly as possible (otherwise, then it will be difficult to pull out a candle):


Now come in handy baking paper. To subsequently candle lighter was removed from the form, wrap it inside of the paper and insert one element to another. Formed between the walls fall asleep our filler (eg coffee). In this case, the inner heart presses to the bottom, so that coffee does not come under cardboard and pokorezhilas form. I am in the center, too, poured some coffee, but it is not necessary:


Relinquish our preparation aside, and embarked on the mass of the candle. Stela rag, take a knife and a candle and a sharp tip of a knife as if we divide it along. However, it crumbles, we clean the wick from the pieces remaining on it, if you need a little more MCPFE knife:


Cooking a steam bath – includes stove, put on her tank with a little water, put into cans, which pour diced candles. It took me a 4pc. Conventional thin candles on one heart. I have it looks like this:


If all of them did not fit, do not worry, the candle melts and you fill up the remainder.
As you can see in the photo, the jar is the "nose", I made it through tonkogubtsev, but you can do without it, just gently and then pour.
Until melted candle, you can add to the same dye – wax crayons, one per serving, you can mix several colors to get the desired hue. Prevent all stick.
Now the important point. Take the pliers / tonkogubtsy comfortably in the hand and they take out a jar of water. You can replace them with potholders. Dips excess water. Pour just a bit on the bottom and try to evenly distribute. Let cool slightly (put on the window sill or in the refrigerator). Do this in order that the inner part forms glued together with wax to the bottom and the next stage of the wax flowed inside.
Now pour the molten mass between the walls of the form:


Give a freeze. To the state "does not flow, but still warm." Carefully take out the internal form. This may at first seem daunting, as it stuck to the walls and bottom. I shamelessly tearing it and got bit by bit. From the bottom is heavier, but it helped me tonkogubtsy (no slides.
We got the entire board, grab a stick and pulls at her one end of the wick. By the way, you can twist the wick of the two, we have learned from the candles as well as our future candle will be thicker. We put a stick across the form, the wick to the bottom:


Made up to the top. Give to cool completely (I'm betting on the windowsill, it's very cold in this time of year). Now we must get a candle from the mold. From the carton generally not a problem – a little mnemonic form in your hands to baking paper fell behind cardboard. The same with tin. Importantly patience and candle itself comes out. Remove the paper. What we have:


You can stop at this stage, but I love the texture. Therefore, the arm lighter. We put a candle on a sheet of paper, sit comfortably, burn, offer a candle to the wall, trying to keep it touched the blue, rather than reddish flame.


From the red decor soot (note the seeds, I gape, photographing):


That's why no suit instead of the other candle lighters. Recommend doing a hot dryer, but my dryer is not hot enough a word, looking for the best for yourself method. I do so, but plan to buy a gun.
All the candle is almost ready. It may happen that after cooling centered around the wick hole is formed. I collect wax, which is fused with the walls, melt it again, made up in the center. When will stiffen, smoothing the face with a knife (up to a level of state), warm fingers and a cloth (to shine and remove all traces of the knife). Add decor. Ta-dum:


In the second candle did not dub the top – it has a beautiful heart, I liked it and I never left
ps There is another option, which as a result suggests that the bottom of the jar-form – is the height of the finished candles.these do little hole in the bottom, it pass through the wick, in all other respects as well. After demolding candle flips and wick excess tails are cut off (one side back to back, leaving the other app. 1cm). In this case, the surface is perfectly flat.Well, or the same as in bottom of baking cups
Go for it! You are talented