Edit: I've decided to repost this because I didn't have any pics of me wearing it. These pics are ways to wear it. The 2nd option is how I wore it to the play.
You can wear it as a casual tee…
Or with a cardigan…
Or belted.
Original Post:
Remember the Anthropologie Curtain Call top that I posted about? Well I finally got around to hand-sewing it, and I think it was worth it. I plan on wearing it to a play we're going to on Wednesday. We're supposed to wear sort of fancy clothes. My inspiration: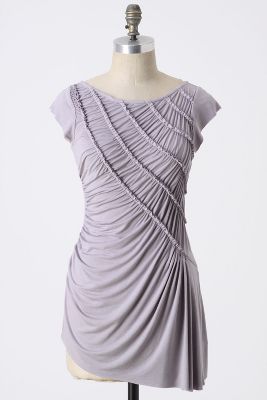 The result:
So, tutorial:
Materials: one t-shirt that fits you, one XL t-shirt, scissors, needle and thread/sewing machine, tape measure, pencil
1. Cut off sleeve hems, hem, and neckband.
2. Mark the front of the neck evenly, making six sections and five marks. With your tape measure, measure between the marks. This will be x.
3. Take your XL t-shirt and cut six strips, x" wide.
4. Use a basting stitch and baste each side of the strip. Pull it to gather the strip.
5. Place your gathered strip, matching it up with the lines, and backstitch it to the shirt on both sides.
6. Repeat with remaining strips.
7. Wear proudly. I added ties to the sides so it could tie in the back, because the shirt was wide, and I also added a band to the bottom so it was longer.