Cards, Christmas's day, Holiday & seasonal crafts, Origami, Paper crafts
|
This wreath is assembled from identical modules, stacked in the art of origami. To add modules, take a few squares of side 8-10 cm Start with the basic form of the Water bombs . Fold top corner to the middle. Repeat on the other side. Bend forward angle of the lower layer so that it covered half of the upper triangle. Repeat on the other side. In the upper layer of each formed workpiece 4 pockets. The sharp end of workpiece can be inserted into any of the other pockets of the same parts. So you
Amirugumi, Christmas's day, Crochet, Holiday & seasonal crafts, Needle crafts, Newyear's Eve
|
New Year's wreath in the romantic style Christmas wearth: Free crochet pattern
Beading and knotting, Christmas's day, Holiday & seasonal crafts, Making flower, Other
|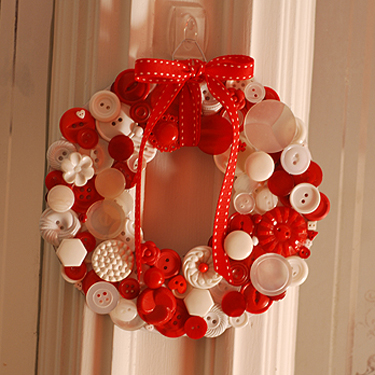 Simply magnificent wreath of buttons offers us to do with their hands What do we need: - PVA glue to glue all the parts of a wreath, as well as scissors. - Board of which can be carefully cut out the circle of the required size. I have prepared for you sketch mug. Its diameter is 145 millimeters. If you do not want to download and print ready version, you can outline the circle of their own. - A handful of buttons, most sizes. Select buttons, which you like best,
Christmas's day, Felt, Holiday & seasonal crafts, Making flower, Needle crafts
|
Supplies: Wreath (I chose a Styrofoam one) Felt (I used 29 sheets of the craft felt) Batting Tulle Pearl headed pins Ribbon Glue Scissors/Rotary cutter Pen Circle shape/template I started off by tracing circles on all my sheets of felt. I used a 3 1/2" almond container lid as my template. After cutting out all of the circles (this will take you some time), I created spirals in all of the circles and then rolled them to create the rosettes. (Sorry, forgot the capture the "rolling" part) Again, this will take you some time to create all the rosettes, this is where
Christmas's day, Making flower
|
The following materials: • 1 to 2 sheets of wrapping paper - I used the same paper in 2 different colour ways. Think outside the square with your paper choice - you needn't use wrapping paper, it could be magazine pages, plain old white office paper, old comic books, anything! Patterned scrapbooking paper would also look fab. You needn't limit it to 2 patterns, if you kept to a consistent colour palette you could use any number of patterns or plain colurs. • 1 large and one smaller plate, salad bowls or
Christmas's day, Making flower, Painting, Recycle
|
We used the flat top and sides of the egg carton to make leaves. After everything was cut into shapes, I had The Boy sit down with some tempera paint and get busy. I LOVE those beautiful Waldorfy wooden paint boards, but I'm a stickler for frugality and repurposing old objects. We use old cookie sheets as painting boards. The side benefit of the cookie sheets is that they hold water spills beautifully. Our tempera paint was limited to 5 colors. Red, Yellow, Green, Blue, and White. Using small,
Christmas's day
|
ast night we came home from a full, fun, Blessed Christmas Day of celebration. I wanted to snuggle with my hubby for awhile before doing my post. And I did! A little too snuggly. Because I zonked out!!! Next thing I knew it was bright outside, our boys were bouncing on our bed and chanting that they wanted candy for breakfast. WHOOPS! I took some left over wire from one of those crazy kits I've mentioned before that look cool but never really work for us. And I formed a circle.
Christmas's day, Making flower, Recycle
|
Recycling paper: Egg Carton Spring Wreath tutorial Although I have some flowers on my front door for spring, I found myself still wanting to make a wreath. This is a great recycling project and fun for kids! I made flowers from a couple of egg cartons.  With Easter coming up, there should be a good supply of egg cartons available!  You just cut the egg cartons into flower shapes.  They should look like this: After cutting out all of my little flowers, I painted them in nice, bright spring colors. While those were drying, I cut