Recycling ideas
Mosaic Spectacular gifts
Learn how to lay tile. With minimal cost from your hands will be released original compositions.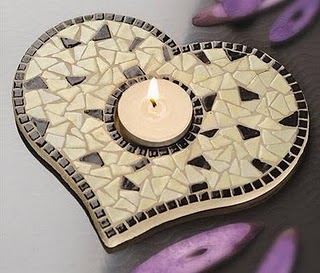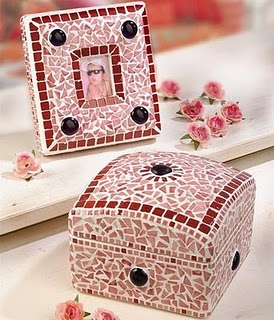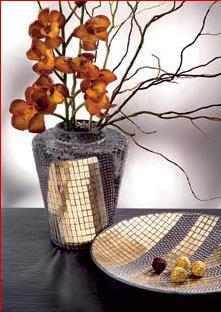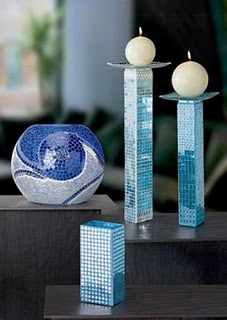 Spread mosaics is not as difficult as it seems at first glance, the most important thing in this work – this is patience and accuracy. And believe me, that such wonderful things, what you see in the photo, you can do you. The last two photos used mirror mosaic and mosaic effect of cracks. But if you do not want to buy ready-made glass mosaics, the remains can use ceramic tiles, old unwanted dishes, bottles of perfume, pieces of mirror. For more small pieces of glass or ceramics, wrap in a towel, put on a flat surface and gently hammer.  
Today we make a spectacular box. Such a  capsule  for storing jewelry and other trinkets – the original gift.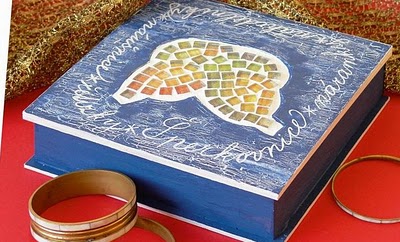 For work, we require: 1. Wooden box or kartonovuyu. 2. Glue on dekupazh.3. Napkins for decoupage with a simple pattern. 4. Piece of hard cardboard (the size of a box lid) 5. Sharp knife or scalpel. 6. Universal strong adhesive 7. Sealant for mosaics. 8. Transparent mosaics. 9. Acrylic paint.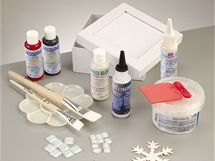 So here we go:
1.   Gift and decorative boxes can be made ​​of wood or hardboard.  as padding under a transparent mosaic using the motif of a napkin. On to draw a Tire rectangle or square and fill it with white acrylic paint.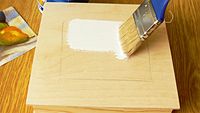 2.  . Figure  could draw their own, but it should be simple, with no unnecessary details to stand out under the glass mosaic. Figure pasted in  decoupage technique: unglued last layer with a pattern and stick it on the white lining, spread with a thin layer of glue.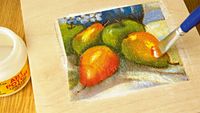 3. E ffekt weak  mosaic rendering is achieved by gluing pieces of a mosaic of transparent image.  pieces of the puzzle have one side shiny and smooth, the other – uneven.  underside of the few universal namazhem transparent adhesive UHU and pasted a piece.  Putting the mosaic is always on a path to select the form.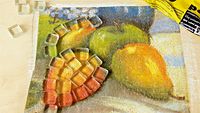 4.  After gluing mosaic cubes outline the shape on paper and transfer to cardboard. Paint the   edge of the box.
 With a sharp knife or scalpel, cut out the inner loop.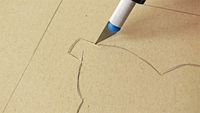 5. Underside of the   board namazhem strong  uni versal glue and stick it on the cover.  So around  the mosaic there raised margin.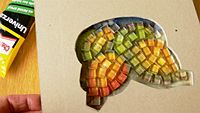 6.  Now stsementiruem mosaic.   sealant mixed with water in a ratio of 2 parts powder to 1 part water and mix well. Then,   a plastic putty knife Vautrin between pieces of the puzzle right up to the edge of the cut. As soon as the glue begins to dry, wipe off excess with a damp sponge.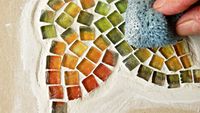 7. Cardboard around the mosaic can also "wear out".  paint it  dark or bright acrylic paint, depending on if we want to have a crack dark or light.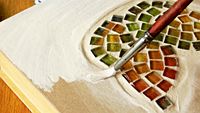 8.  After drying acrylic paint will cover the entire surface staryaschim glue. This colorless water-based glue slowly  dries and cracks.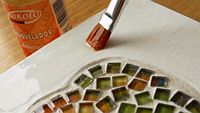 9. And   finally strike a final coat of acrylic paint.  In our case, dark blue, which after a while begin to form white cracks.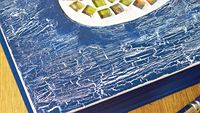 10.   The mosaic inscription decorate the edge of the lid. The inscription will make the gel pen, then it will outline a fine brush with acrylic paint.
Found on the internet