Anthro inspired Denim Farfalle bag
I'm very excited to share my latest handbag creation, a project I recently guest-posted on Someday Crafts. A few months ago I fell in love with this Anthropologie handbag: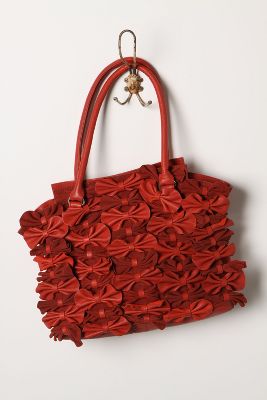 The Farfalle Handbag
Did you know that Farfalle means butterfly in italian? Unfortunately, a three-hundred dollars purse, even this cute, does not fit in my budget. No matter. I decided to make my own. Not in leather but in denim. And here's is how:
Supplies:
NOTE: Measurements account for 1/2inch  sewing allowance around the sides and bottom seams
- Two pieces of 16×12&1/2 inch denim- new or upcycled (new will be stiffer than upcycled)
- Two 3×25 inch strips of denim for the handles
- Two pieces of 6×12&1/2 inch of your choice for the lining, cotton or satin
- One 2×3 inch piece of card stock for the bow template
- 43 to 48 2×3 inch rectangles of denim for the bows
- 1 yard of coordinating blue satin ribbon
- Fray Check
- Sewing machine and sewing supplies
- Glue gun and glue sticks
- Magnetic snap (optional)
- Extra material for inside pocket
- Medium weight interfacing (optional)


How-to steps:
Round the edges of your card stock for the bow template
Use the bow template to cut the pieces needed for the bows and apply fray check on the edges
Make an accordion with 4 fold "peaks" on the side that will be up
With a matching thread, secure the fold by threading through the folds twice
Secure with a knot
Cut the pieces of matching ribbon for the center of the bows (1.5″ long)
Put a dab of hot glue on the back of the bow tucks
Put the end of the ribbon on the hot glue let it cool for a couple of minutes
Put another dab of hot glue on the end of the ribbon and fold over
You will need roughly the same number of light and dark bows
You will save time by stitching all the bows then applying the ribbons in batch of 6-8 bows
Make the bag shell – I didn't make a detailed tutorial for this part as there are a number of very good existing ones around the blogosphere. There is a very detailed one HERE.
Cut the fabric pieces for the outside shell and the lining
Sew the outer shell and the lining for a basic bag.
 Tuck in the top corners of the outer shell as shown on the picture below i.e. 2″ wide x 3″ tall
Pin the sides and bottom of the shell
Optional step : add one or 2 inside pockets to the lining
 Add a pin a the corner of your tuck
Top stitch the fold all the way around
Once top stitched, the outer shell should look as shown below
Optional step : fuse the interfacing to the outer shell
Pin the lining and outer shell right sides together along the top of the bag lining up the side seam
 Don't forget you will need a hole in the bottom of the lining to turn the bag right side out
Stitch along the bag opening with a 3/4″ seam allowance and turn the bag right side out
Optional – Place a magnetic snap for the bag's closure using the 3/4″ fold of denim as support
Close the opening in the lining of the bag
Cut and fold the straps for the bag  as shown – first in half, then fold the edges in like for bias tape
Tuck the short edges in
Top stitch all sides of each strap
Pin the straps about 1 1/2″ from the top corners
Stitch the handles on the bag
Layout the bows evenly on the front side of the bag alternating dark and light ones
For the layout below you need 43 bows (21 light and 22 dark) 5 across by 9 high (minus 2 at the top corners)
You will need more 5 bows for a tighter layout
Put a dab of hot glue on each side of the center ribbon
Secure all bows to the bag's outer shell
All done – Good news, it cost under $20 even with new denim and interfacing
Source: artfullycaroline.com