Sewing patterns
Denim and pearls, denim and lace, denim and eyelet, they just seem to go together.
Especially when you find the adorable Old Navy eyelet shirt at the thrift store for $2.00…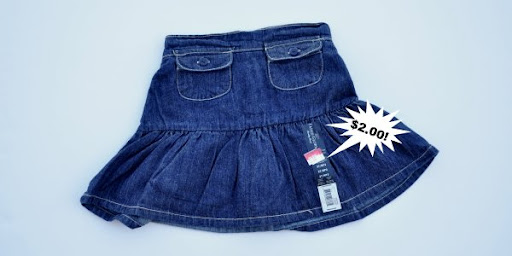 and the skirt at Wal-mart on sale for $2.00.  Throw in some eyelet fabric you already have in your stash and you have yourself a new outfit for less than $5.00!
I told you I am having too much fun with this challenge.  It is so fun to see what you can do with just a little sewing and time, and a little budget.  This skirt fits into the theme well, and it only took about a half an hour to sew.  This could be done with just regular fabric, and it should be obvious where to make the changes, but for the sake of time I will just talk about using eyelet (white fabric would work the same).  Here is how I did it:
Simple Way to Upgrade A Denim Skirt
Supplies:
skirt, or pants you can cut off
eyelet fabric measuring at least one and a half times the width where you will be sewing it on
all your sewing stuff
Fabric Cuts:
If you are using a skirt like I did, you will only need to cut the fabric.  If you do not have a skirt, but a pair of pants (often kids outgrow the length before the waist, they would work perfectly in this instance) cut them just above the seat and sew a zigzag stitch on the edge.
Cut the fabric you will be adding to the denim to be at least one and half the width of the area you will be sewing it on.  I just eyeballed it. Folded my fabric in half, held it up to the area I would be sewing it to and it was twice as long, perfect.  The length will depend on how long you want your skirt.  I wanted the denim part to show on mine, and a double layer.  So I measured off twice as long as I wanted the length to account for the fold.  Make sense?  It's really easy, I think I am just making it sound hard!
Now take your fabric and fold one side over a ¼ inch and press and then fold the other side the other direction and press.  This is so when you fold the fabric wrong sides together the hem on both layers is folded under.  Now do a zigzag on the edge to catch the raw edge.  If you are not using eyelet you may want to a double fold and press then sew a straight stitch.  Do what makes you happy!
Now take and fold the fabric right sides together.  You will be sewing the short sides together to make a big circle.  Start on the side that the hem is folded wrong sides together and sew halfway down with a 3/8 seam allowance and a straight stitch.  Now turn the fabric right side out and turn that seam out and sew the rest of the length down.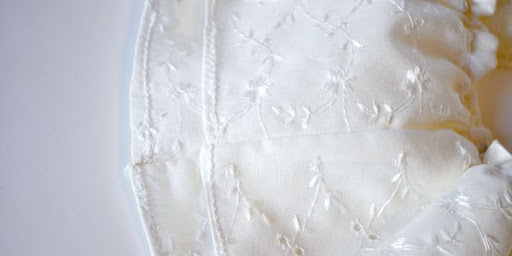 This will make it so when you fold the fabric in half, right side out and on top, the side seams will both lay on the inside.  Finish seam with a zigzag and press.
Fold the fabric in half right side up and out.  I folded mine so that one inch was left longer on the bottom layer.  Now sew a basting stitch the full length of the skirt with a 3/8 allowance and gather.
It should look a little something like this.
Now slide it over the skirt and pin in place where you want it.  Make sure the gathers are pulled to fit the width of the skirt, and the side seam of the skirts lines up with one of the seams on the denim.
Now just sew right along the basting stitch with a regular straight stitch and your done!
Easy peasy, lemon squeezy. Oh wait, I changed out the buttons!
Of course this could be done a bunch of different ways, I just wanted to give you the idea of sewing on a little fabric to update a plain skirt.
I think it went from Wal-mar to boutique quite nicely!
I also made a bow to go with it, and that tutorial is coming up!