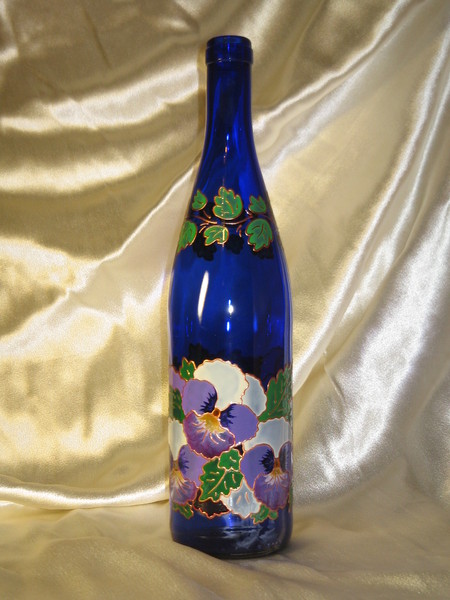 You will need:
1.Butylka, preferably in color
2.Vitrazhnye colors: white, purple, yellow, red, green
3.Kontur glass: gold or bronze
4.Plastikovaya dish (disposable)
5.Folga
6.Atseton
7.Spichki, wire, brush, cotton swabs, needles, cotton pads (some stuff), paper towels, gel pen.
DO NOT NEED:
1.Gubka
2.Zolotaya structural paste
Getting Started ….
1.Nanesenie figure.
Who is the least familiar with the technique of painting on glass, he knows the basic principle: the glass on the picture-loop circle-pour paint-wait until dry up – fix (or conscience will allow). And if with a vase or a lamp, this option is the easiest, then with a bottle of this trick will not work. But even professional artists do not write now, without causing even the slightest preliminary outlines of future objects and not making the composition.
So do not try to immediately seize the contour, unless you are sure that you – Salvador Dali 
Go to a more simple way, as, indeed, arrived and ya.Nanesti pattern on the glass can be a marker or gel pen (all that is good and gets dirty easily washed away from the glass). A little advice – the color of pen should be as close to the color of the contour.
If you are not confident in their artistic abilities, take as a basis for drawing easier – daisies and bluebells good at all.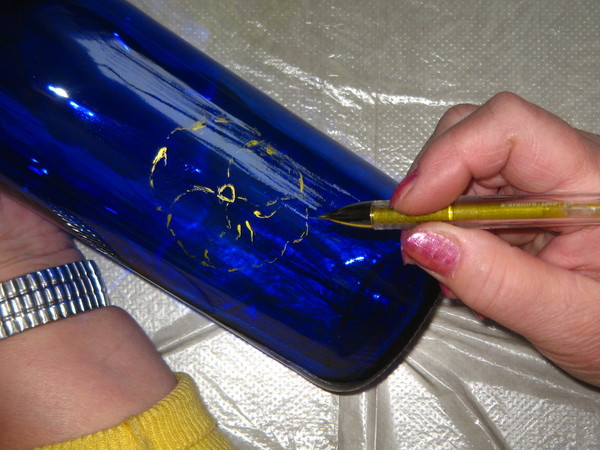 Now, having put a picture (or part thereof), tracing its outline.
Personally, I was doing step by step drawing, you can do so, as you prefer
Something like this would look like the result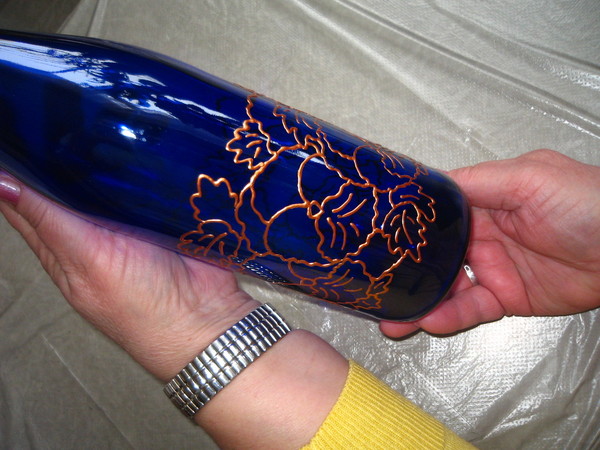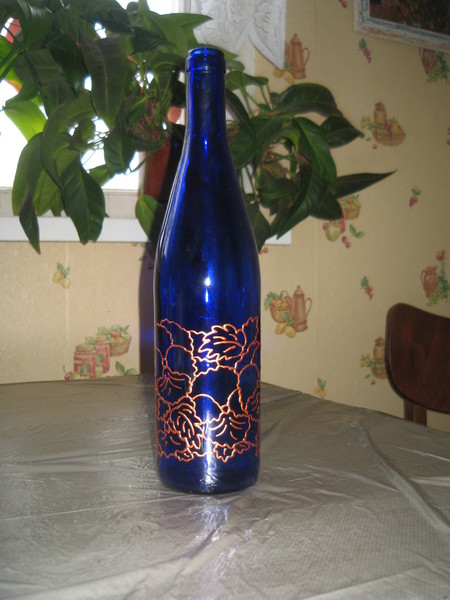 When the outline hardens, the remnants of the marker you can simply wash off with warm water and detergent – by the way, this procedure and the surface for painting degrease.
2.Podgotovitelnye work.
The biggest challenge in painting the round objects in that they are …. ROUND 
Paint the object hard to keep in hand on the table, he rolls around, the paint runs off, unable to gain a foothold on the surface.
Here we need the support. As a stand suit varied, but most importantly – non-slip, objects: support for utensils, erasers and / or a simple foam plastic, which is complete in an old box from under the TV or in the bins neighbor on the landing.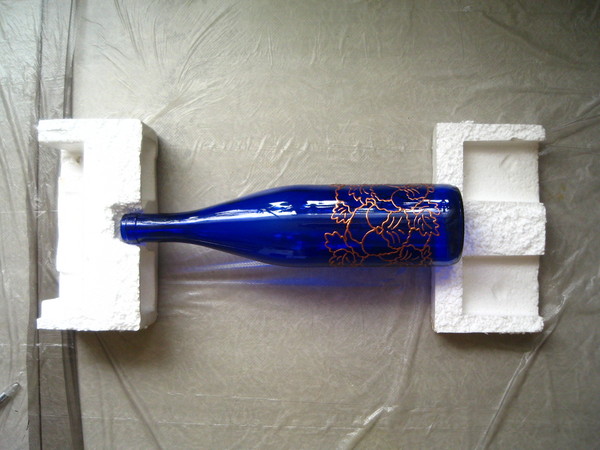 We pridale our bottle horizontal position and will rotate it as work progresses, and drying paint. Every next piece of track can be painted to fill in only if sufficient previous clutch.
Immediately put an end to the eternal debate on this subject and I will say this-DRY YOU CAN USE! (Otherwise your work will extend for a week)
The second problem – paint our transparent, and a bottle of dark color. Of course, there spetsianye opaque paints, ceramics, for example. But what if their hand was not found?Just add a drop of white paint to the desired color. The paint will be slightly lighter and loses transparency, all the rest of its properties does not change.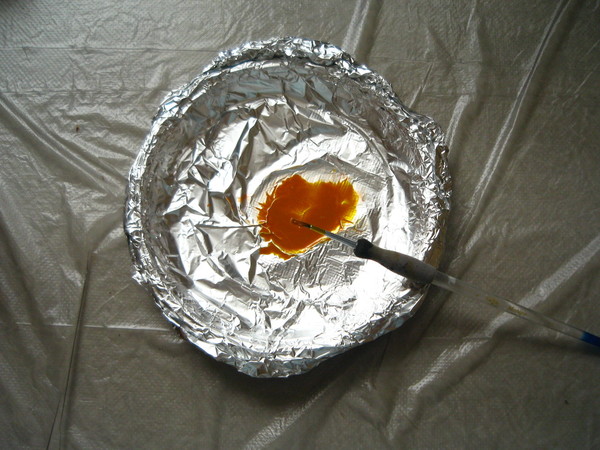 It is best to mix paints to use ordinary disposable baking dish, turning it with foil. If the paint is slightly thickened, you can drop it in diluent (each manufacturer of paints – a).For rinsing brushes (in acetone) is best to use a small jar with a lid – so you can "lock" the smell at least for a while.
3. Getting Started with colors.
How to work with stained glass paint, I will not tell – as mentioned above, this master class is designed for those who already have in that at least some experience.
And here's how to avoid major complications-show.
The round shape of paint the surface still allows paint to flow, to go zatekami and accumulate in the corners. Should not be much afraid of this – in this case only adds liveliness and depth of the picture. A surplus paint in the corners of the circuit can be removed with a piece of paper towel or cotton swab (but only until the paint is still liquid!)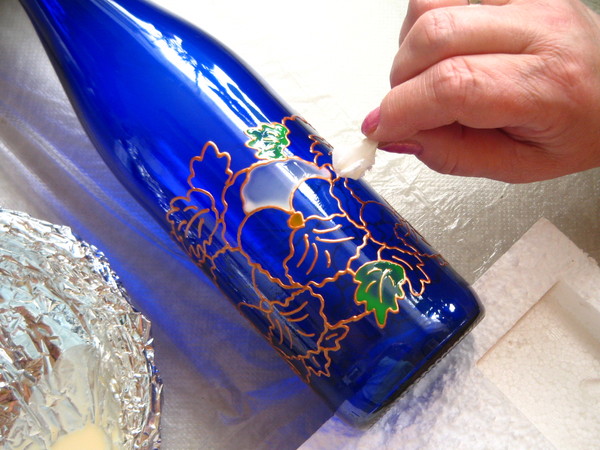 Paint on the flowers mustache, make prehody from one color to another easier by Edged matches or pieces of wire. While the paint is liquid, it is mixed with another color and flows from one to another.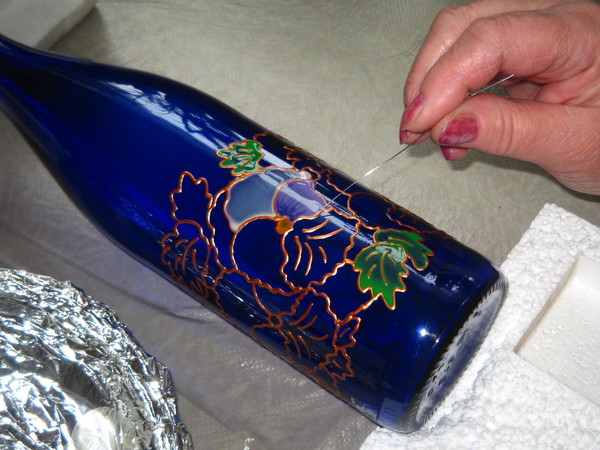 On the dried paint so you can draw the small touches and details.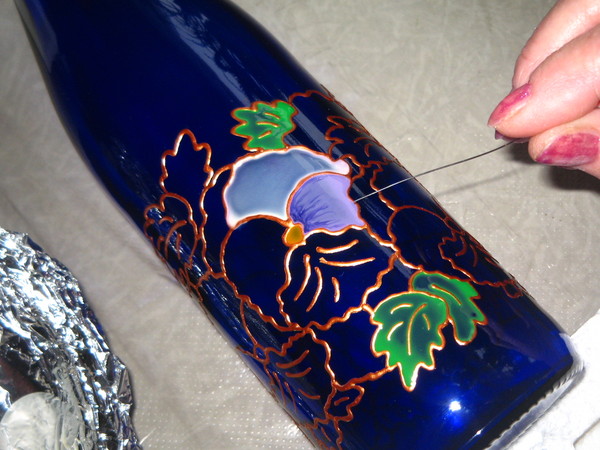 That's so it will look like a bottle full.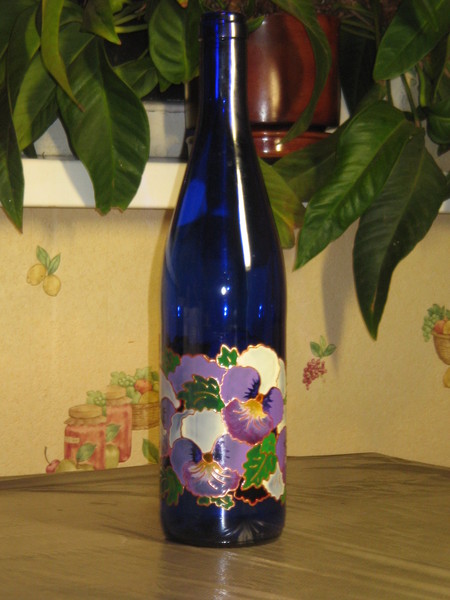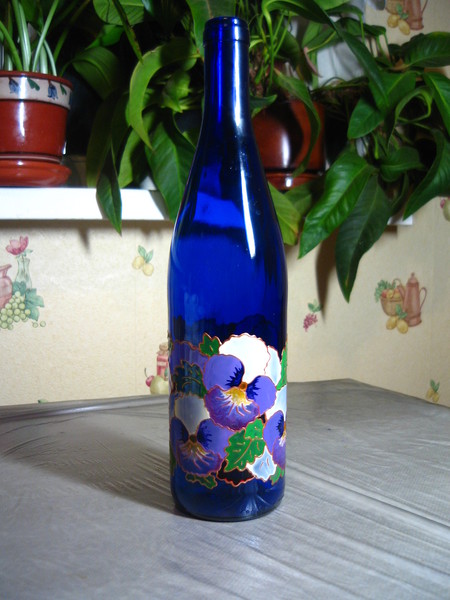 ….. Bigger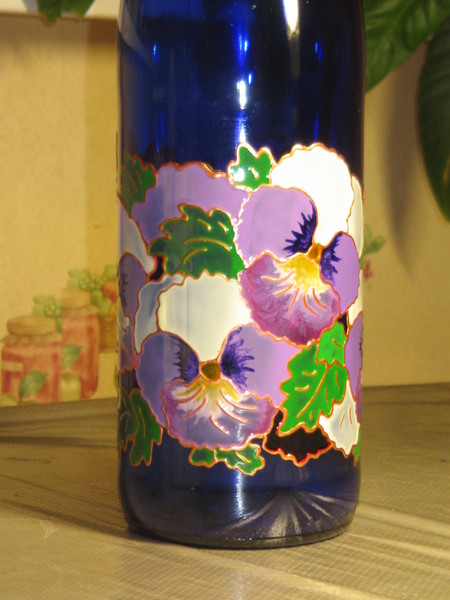 …… And even bigger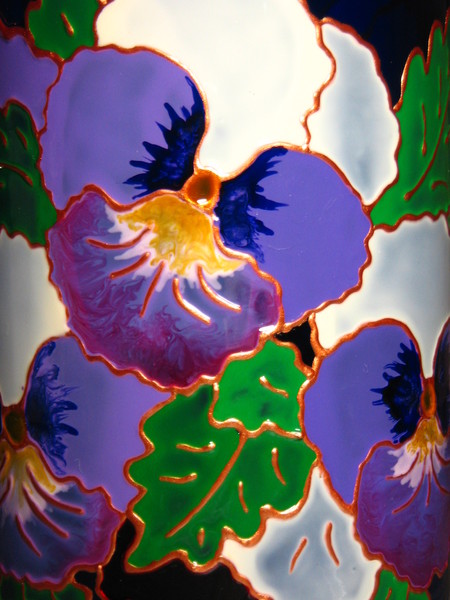 4. How to spoil everything
))
What is the beauty of stained painting and painting on glass surfaces? of course that you can wash it all, erase, otskresti and start anew.
I nearly suffered this fate ….. And if you have gold paint, paste or potal, you fight it you prefer Gold Treatment!
Structural gold paste was applied with a sponge ….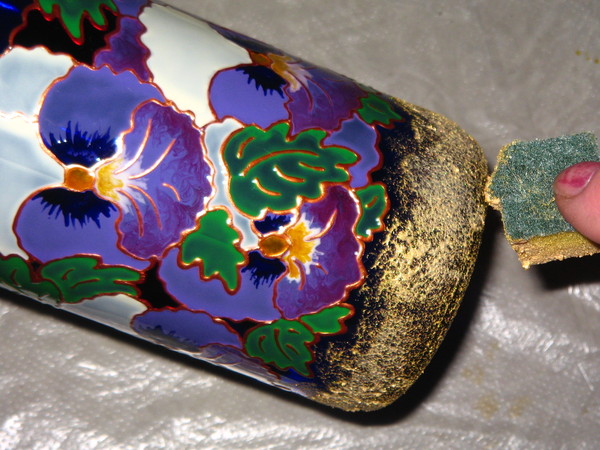 -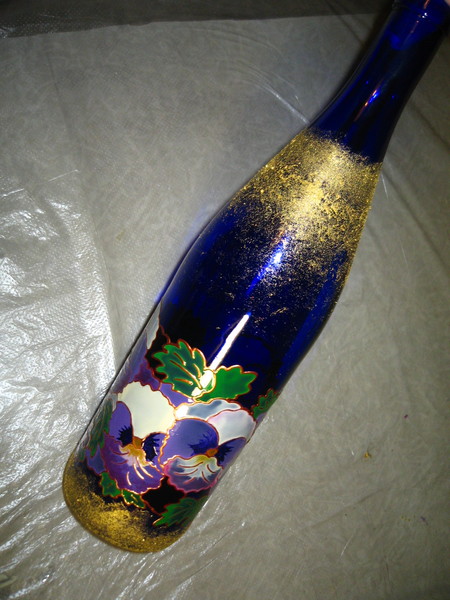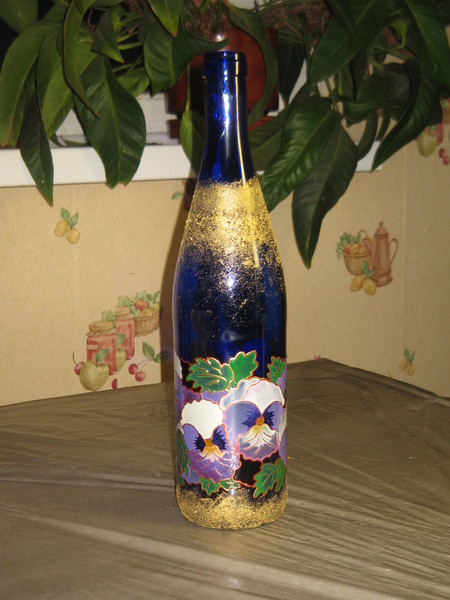 Fortunately for me, all I'd done the next day, when the stained glass paint had already quite dry. So that the effects of gilding I just washed off with warm water under the tap – paste based on acrylic and holds me back only when finally hardens (as in the first few hours is quite a washed out).
5. Final stage.
Best is the enemy of the good. In this case I had to check again …
The most logical conclusion decor bottle design was executed by the neck in the same method.
Back to item 1 and see photos …..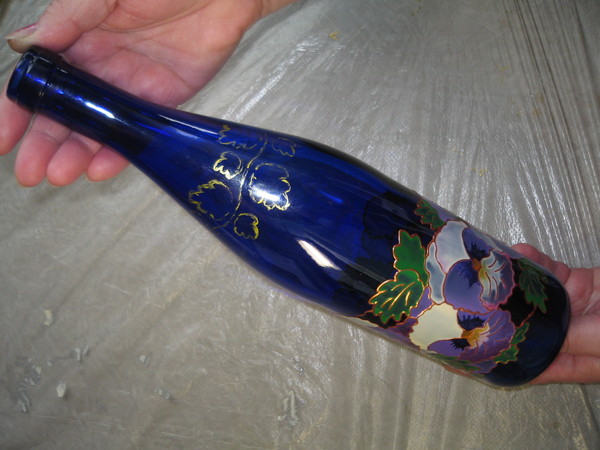 -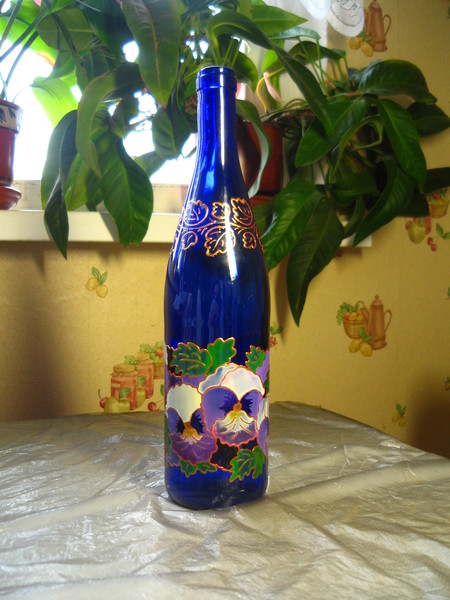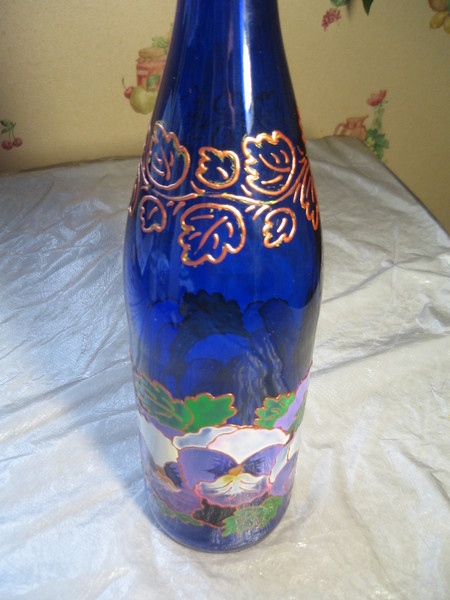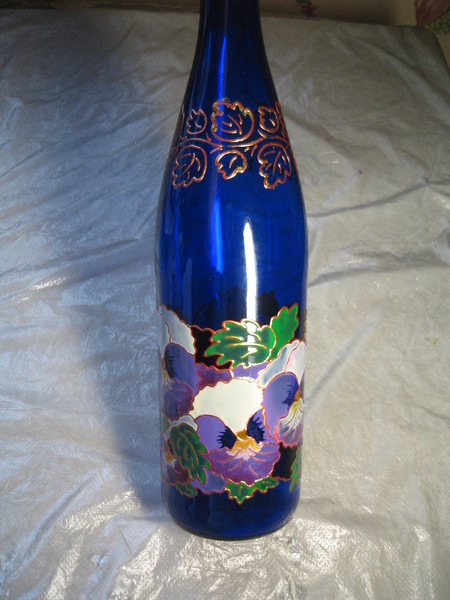 And that's what I got in the end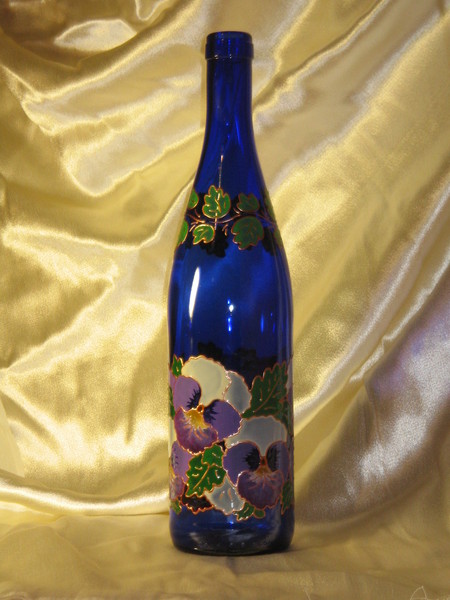 This bottle will serve as a wonderful gift, it can be used for other purposes or simply to admire and lift your spirits!