Beautiful tree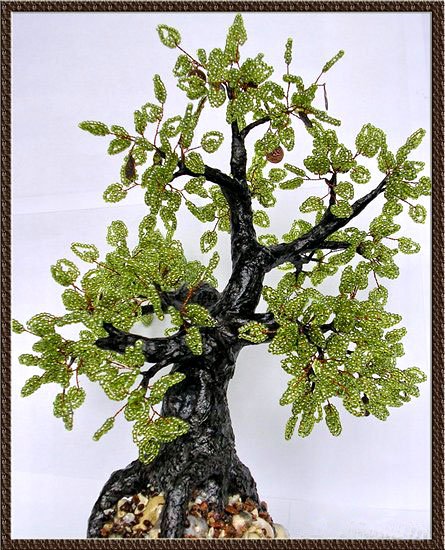 To crown the money tree you will need:
green beads – approximately 200 grams.;
copper wire; 
Coin (You can also add beads, imitation acorns);
floral tape or thread floss;
pliers.
For the frame will need:
thick aluminum wire thickness of 3 mm.;
masking tape (you can use other materials for wrapping the trunk and give it volume).
pliers.
To visualize the shape of the barrel, you can draw a sketch. So much easier.
You can just make the frame, and you can fasten on a single branch.
Leaves. To get started on a wire stringing a lot of beads, so do faster and easier. Made by the leaves of the hinge, the form shown in the picture.
Make a loop of five beads, twist. Then make another loop around in the form of leaflets.
Such branches, pieces of about 170 pieces in each of which is for 3 leaf.Then twists them together for 2 sprigs. And already is doing basic preparation for branches – to collect the 3-4-5 of sprigs in bunches and wraps them with thread floss or floral tape.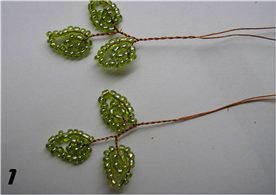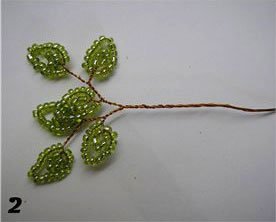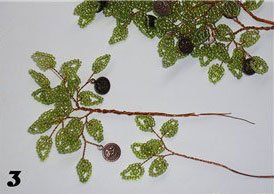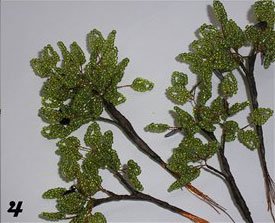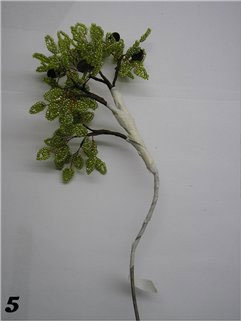 Fig. 5 shows a shaped crown and trunk. Branch thickens to the desired thickness of winding us, make a bend and primatyvaem other branches.Side – 4 pcs.
Attach to the branches and trunk of the conceived form, because after being covered with plaster tree trunk should not be touched until it is completely dry, otherwise the strong will of the crack.
Before plastering trunk wraps once again that nothing was stuck, check to see whether they stagger twigs. Fasten the tree to stand. You can use the glue gun.
If you are planting a tree in a plastic pot on the cast – remember that from the plaster, they often crack.
Dilute PVA adhesive plaster. On this tree, only one tablespoon of glue and the same amount of gypsum. Tree neatly daubed, leaving little roughness – bark's not smooth.
Plaster dries overnight. Small napilnichkom or nazhdachkoy corrects that we do not like. Next gruntuem acrylic paint to paint all the cracks, holes, hollow …
Again dries. Then legalize podstavochku – glue gun and pebbles. All small pebbles glued to the acrylic lacquer.
Do not forget wood varnish! Good luck!