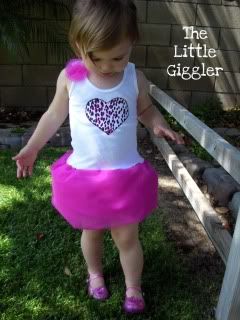 Gift presents for kids: Pink Party Dress tutorial,
sewing pattern
Supplies Needed:
One ribbed tank top ( I used Hanes Boys A Shirts.  I paid $6.50 for a pack of five, so that's $1.30 a shirt.)
One and a half yards of tulle.  (I paid $1.98 a yard.)
A scrap of fabric for the applique.  (I cut up one of the giggler's old dresses)
Thread 
Sewing Machine
Heat n Bond (I didn't include this in the price of the dress because I barely used any.  Besides, you could go old school if you want and just pin like crazy.)
I made this for a size 2T-3T.
Here we go!
Step One:  Apply your applique using the heat n bond's instructions.  I decided to use a heart.  I just cut out my own stencil on card stock.  I think it would be really cute as a birthday dress, so you could also use a number or an initial.
Step two:  I used a zig zag stitch around the heart.  Don't look too close at the picture.  It's not my best work.

*Before we go to step three.  Cut off a little less than half a yard of your tulle and set it aside.
Step three:  Take your yard-ish and lay it out so it looks like the picture and fold it in half.  When I say half I mean if you rolled it off the bolt, cut off a yard and then fold it in half.  You will have a few layers of tulle.
Step four:  Sew the sides shut.  Leave the top open.
 Step Five:  Open up your skirt so it looks like a pouch.
Step six:  Grab the rest of your tulle.  Cut out 8 one inch circles and 8 one & and half inch circles and set them aside.  These will be for out tulle flower on the shoulder.  Ok, now cut the rest of your tulle into strips and ball them up and stuff them in the bottom of the pouch.  Make sure you spread evenly.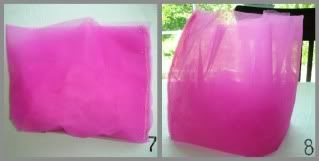 Step Seven:  Match up the seems you already stitched and sew them together.  The top will still be open.
Step Eight:  It should look like this standing up.  Make sure your bunches of tulle are still evenly spread around the bottom before we sew the top.
Step Nine:  Set your machine on the largest straight stitch.  Mine is four.  Sew around the top of your skirt, closing the "pouch".  DO NOT back stitch.  Pull your thread so your skirt bunches up.  We want it to match up to the bottom of our tank top.
Step Ten:  This is what your skirt should look like from the top.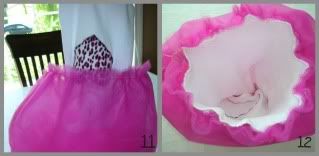 Step Eleven:  Have your tank top dive in head first.
Step Twelve:  Pin your raw edges together stretch the tank top as you go.  It's ribbed, so it will shrink back.  Sew or serge.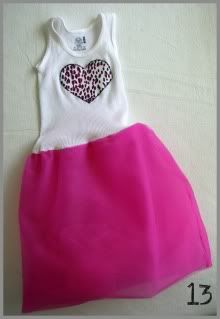 Step Thirteen:  Turn your dress right side out and it should look like this.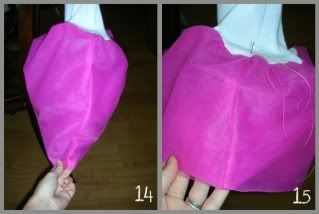 Step Fourteen:  Find your side seem(there's only one).
Step Fifteen:  Take the bottom of your skirt and hand sew it to the top of the skirt.  I'm going for a "bubble skirt" look with this.  Repeat this on the opposite side and the front and back.  So, you will hand stitch in four spots.  I didn't want to sew it all the way around because I thought it would take away the puffyness.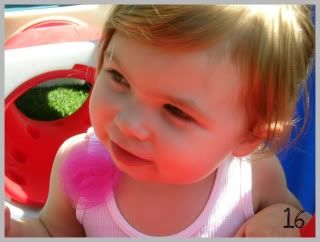 Step Sixteen:  Take the tulle circles you set aside earlier and make a tulle flower.  Take one circle at a time and singe the edges using a candle or a lighter.  You don't need to touch the flame.  Just get it close enough to singe.  Once you finish, stack them together and sew your flower on.
YOUR DONE!
I hope this tutorial is helpful.  Have fun making your five dollar party dress!  Have even more fun telling your husband that it only cost five dollars!