Plastic canvas tutorial
Made from plastic canvas, these adorable little shoes work up quickly.  One pair takes 30-45 minutes.  This would be a good summer project to help teach your daughter to sew, especially if you used the plastic beginner's needles.
Materials Needed:
scraps of 7 count plastic canvas (You will need 4 pieces that are 10 x 17 holes and smaller pieces for the straps)
small amount of 1/2 inch elastic
worsted weight yarn in the colors of your choice  (You will need one color for the shoe base and one color for the strap)
thread to match the flip flops
plastic canvas needle and a regular sewing needle
Two 1/2 inch decorative flower buttons
Plastic Canvas Patterns: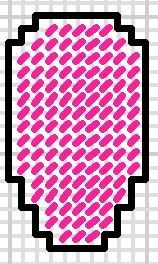 Shoe Base – 10 holes x 17 holes
Strap – 3 holes x 18 holes
Instructions:
Cut 4 each of the shoe base and 2 each of the straps.  Stitch all pieces according to the chart with your color of choice.  In the middle of each strap, sew one of the flower buttons.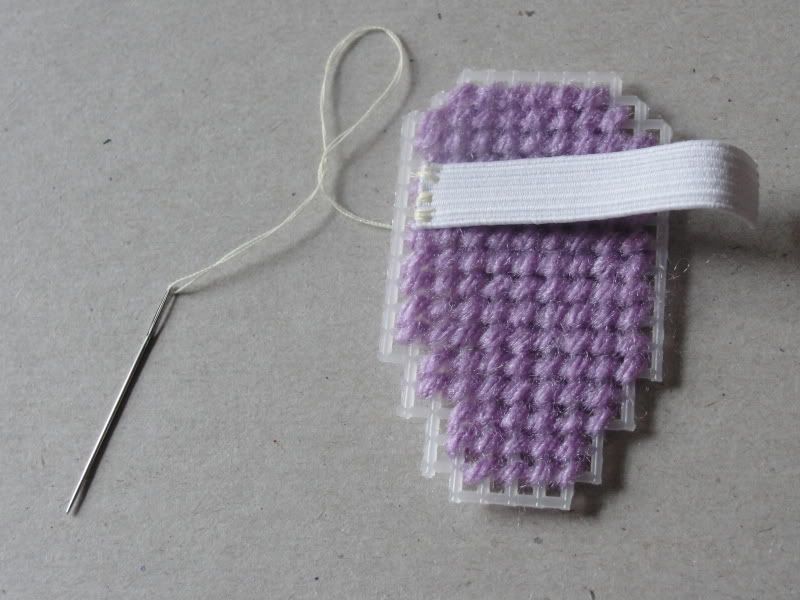 Take a 3-4 inch long piece of elastic and stitch with thread to one shoe base with the right side facing upward,  beginning with the 3rd hole down on the shoe edge.  (Refer to picture for placement.)  Since dolls vary from manufacturer to manufacturer, it is best a this point to place your doll's foot on the base and then fit the elastic snugly.  Cut off the excess and sew the other side to the shoe base.
At this point, try the shoe on again, to make sure it fits correctly.  You want it snug, but not so tight that little ones will have problems taking the shoes on and off.  Repeat the process to sew a piece of elastic on one of the other flip flop bases.
Holding 2 shoe bases (1 with the elastic, wrong sides together), and using the same color yarn as the shoe base, stitch on one side of the strap, using the elastic as a placement guide.  Overcast around the shoe until you get to the other side and then stitch on the other side of the strap.  Finish overcasting around the edge of the shoe.  Repeat for the other flip-flop.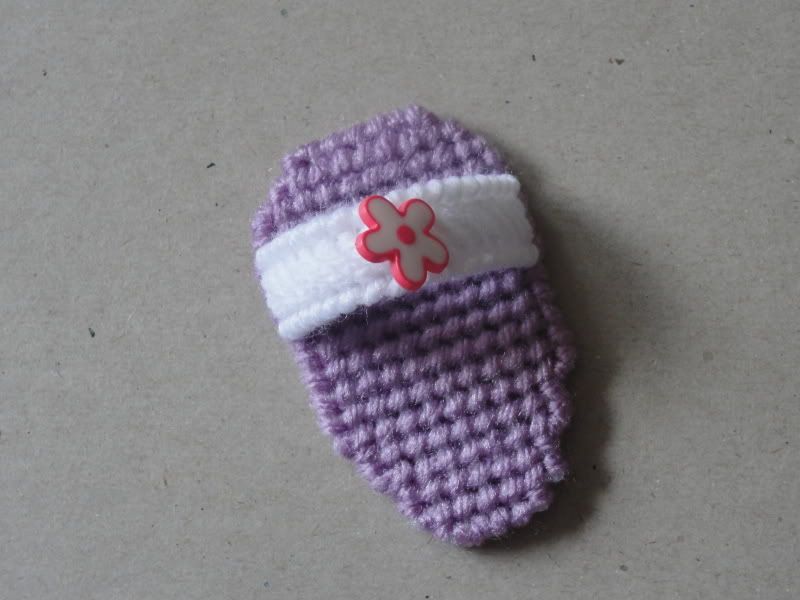 All done.  See I told you they were quick and easy!  Have fun making these in all sorts of colors for your favorite little girl.
Source: aheartfulloflove.com