Knitted Baby Booties – Size: Newborn to Six Months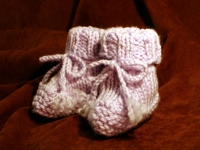 Gift for newborn: Baby Bootie and Hat!

Free knitting patterns

Note: The project photo was knitted with one color, but the pattern shows directions for three different colors, for the sole, body and ribbed top area. You can choose to make these in any combination of colors, or just in one color.
Materials:
Size 5 straight knitting needles
any color worsted weight yarn, you don't need a whole skein, in this case blue is the sole, white is the body, and black is the top ribbed part
Size G/6 crochet hook
Yarn needle
Size: Newborn to six months
Gauge: When working in St st, 5 sts and 7 rows= 1 inch
Stiches used:
Knit 2, Purl 2 ribbing

Directions (make 2)
with blue cast on 38 sts
Rows 1-10 knit
attach white yarn
Row 11: K 16, sl 1, k 1, psso, k2, k2 tog, k 16
Row 12: P 15, sl 1, p1, psso, p2, p2 tog, p15
Row 13: K 14, sl 1, k 1, psso, k 2, k2 tog, k 14
Row 14: p 13, SL 1, P 1, psso, p 2, p 2 tog, p 13
Row 15: K 12, sl 1, k 1, psso, k 2, k 2 tog, k 12
Row 16: P 11, s 1, p1, psso, p 2, p 2 tog, p 11
Row 17: K 10, s 1, k1, psso, k 2, k 2 tog, k 10
Row 18: P across
Row 19: K 2, yo twice, (k 3, yo twice) three times, k2 yo twice, (k 3 yo twice) three times,K 2
Row 20: P 2, drop both yo (eyelet made), (p3 drop both yo) three times, p 2, drop both yo, (p 3 drop both yo) three times, p 2
Row 21: K across
Row 22: P across
Attach black yarn
Rows 23- 36: Work k 2, p2 rib

Finishing:
Thread tapestry needle and sew sides tog, fold down rib part
Ties: using crochet hook and black yarn make a 15 in. long cord using chain stitch, weave through eyelets and tie into bow
Abbreviations:
K- knit
P- purl
psso- pass slipped stich over
sl- slip
st(s)- stich(es)
tog- toghether
yo- yarn over
()- instructions between parenthsis are repeated a given number of times
To view the instructional videos for this pattern, click the videos below:
Knit Baby Booties – with Straight Single Point Needles, Part 1
Knit Baby Booties – with Straight Single Point Needles, Part 2

This pattern was submitted by Katie Porter.
Source: cyberseams.com