Angry Birds meet Minions (And Fondant Recipe)
Aren't these the cutest things!?
Kevin and I spent the day making Cupcake Minions (from the movie Despicable Me)  and Angry Birds! I couldn't decide one which to make, so obviously we had to make both!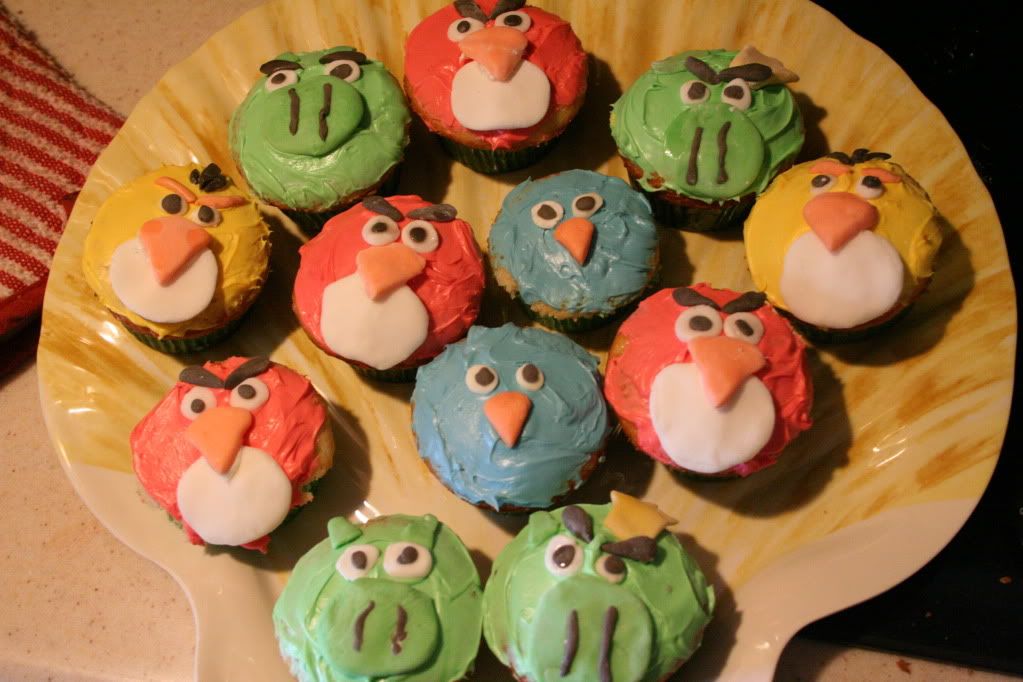 I saw the Minions here, (but changed it just a little) and the angry birds I've seen all over the place!!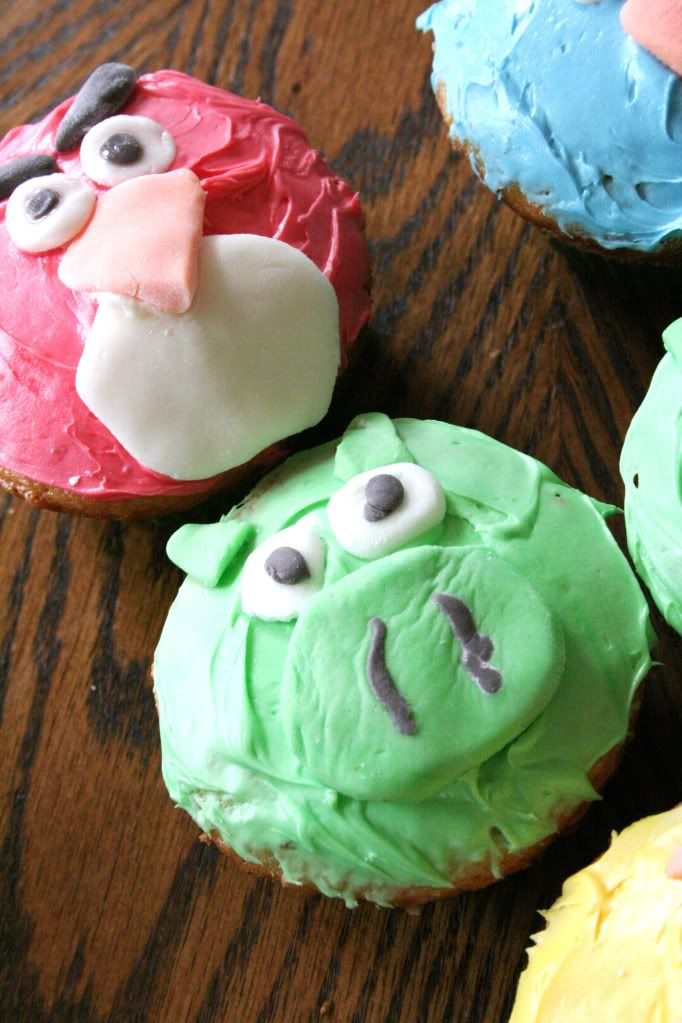 Want to make some? All you need:
1. Cupcake Mix
2. White Frosting
3. Fondant (I'll tell you how I make it in a bit)
4. Food Coloring
5. Twinkies
First, bake the cupcakes!
Next, make fondant!
Easy Fondant Recipe
Once again- I eye ball EVERYTHING. I'm a terrible example of a cook.
Take about half a bag of marshmellows, put it in a microwave safe bowl. Add in a capfull of milk, and a chunk of crisco. (my "chunk"size was a bit smaller than a deck of cards)
Put it in the microwave until it starts to melt, pull it out and stir it until everything is all mixed up
Then add in powdered sugar until it isnt sticky. (have an entire bag handy, but you'll use about 1/2 to 3/4 fo the bag) Start by mixing with a spoon, once it gets less sticky- get your hands in there and really mix it up! Lay some powdered sugar on the counter and kneed it. You dont want it too dry, or too sticky!
Okay- so you have your fondant. Now take small chunks, and dye it colors for what you need!
Eyeballs- white outside, little black insides
Bellies for some birds- white
Beaks- orange
Eyebrows- black and orange
Pig snouts and ears- green (and black lines on the snout)
Crowns- yellow
Frosting:
Blue- minions
Yellow, Red, Blue (and more if you want more birds)- birds
Green- Pigs
And we used a little black-ish frosting for the glasses on the minions and smiles
And I'm sure you can figure out the rest! Just keep looking at the pictures of birds. I had no idea how much they were different: some have bellies, some don't, eyebrows can be different colors etc.
Source: threeyearsofdeath.blogspot.com