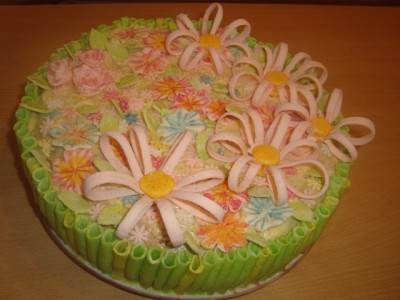 Flowers for birthday: polime clay tutorial,
kids craft ideas
I want to share with you the most simple decorations for a cake that can be done without special cavities. 
Take any mastic that you like and cut it into strips such. 


Then these strips hang on the tube (diameter of the tube of your choice) and glue the ends together mastic water. The ends of the cut is not necessary, it will be done later. I have them cut off just because I'm experimenting.  


Then we remove our rings from the tube and put on the drums, so they dry out properly. I have them lie until the next day. My mistake, I briefly cut off the tails.  


eper need to prepare for such sertsevinki flowers.  


flower begin assembly. Take any plug that fits the diameter of the flower of our sertsevinki and a half in height and ringlet curls are starting to collect our until they collect in full flower.  
first we have to put the cork on one sertsevinku yellow and collect rings on it.  
When the flower is assembled, it is necessary to in the middle of a stick another sertsevinku. It turns out that we sertsevinka both sides Zhovten'ka. These are the flowers I got. 


And I did the same flowers of another color pink and orange. Note how I'm going pink and orange flowers. 


If for any reason, your flowers will not keep shape, you do not worry, they can be put sideways and they all will still look very nice on the cake.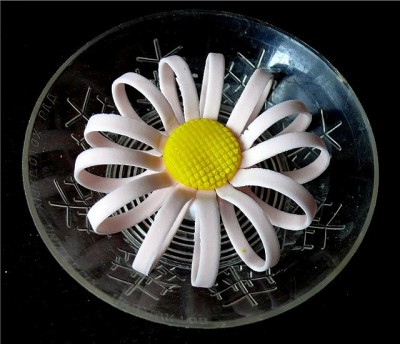 Photo:say7.info