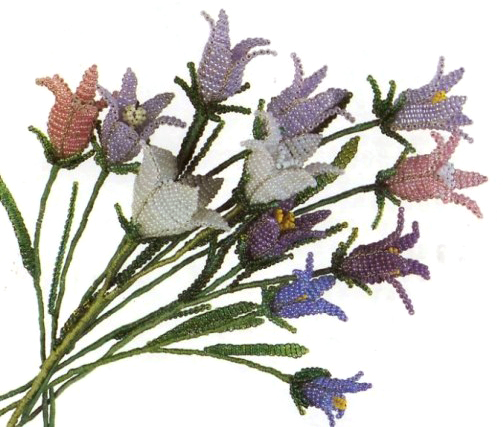 Require a rate of 3 and 5 leaves of the flower:
Blue glass beads – 9 g;
Green beads – 5 g;
Yellow beads – 1 year
Flower bell is made up of petals, midway (3 yellow loops) and 5 sepals.
The blue color can be replaced by pink, white, purple or lilac.
Petals. For each petal is required wire length of 50-60 cm petals trailing scheme. First woven petal first, then others who join him in the process of weaving, from the fifth row. The last petal has to close the corolla of a flower.
The second option lobe (more rounded bell) is woven by the scheme: 1-2-3-4-5-6-7-8-8-8-7-6-4-2-1. The petals begin to connect before the first row of 8 beads.
Middle of a. Cut the wire length of 50 cm in the middle of the column Dial with yellow beads 3 cm long, bend the wire loop and twist the ends of 2-3 times, at each end of the wire to make another one such loop.
Sepals. Cut the wire length of 45 cm in the middle of the dial 8 green beads and wire pass through the three beads in the opposite direction, avoiding the last one (see picture), enter the working end of the wire another 4 beads and twist the ends 2-3. At each end of the wire to make 2 more of the same sepal. The ends of the wire to twist a few times.
Leaves. The leaves are weaved wicker parallel scheme:
1-2-2-3-3 – (4 x 10-15 times) -3-2-1.
Assembly. Insert a corolla of a flower yellow center. Under the rim of the flower sepals place, twist the ends of the wire at 3-4 cm Screw the first sheet and continue to twist the wire, attaching the remaining flowers and leaves.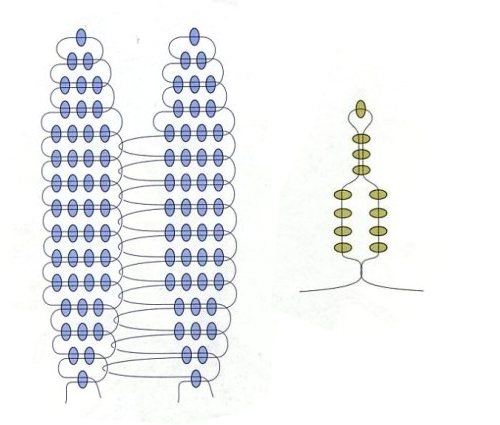 After the book "Flowers of beads." Fedotov, G. Valyuh.
Flowers for birthday, Flower bell beads. Parallel weaving
crafts for spring
Flowers of beads