Outside the window, winter, frost and snow, and on my desk is a small oasis, so reminiscent of the warmer climates: hot sun, warm sand and tropical foliage.
Crafts for summer:  Palm Bead,
kids craft ideas

My oasis of palm trees two, made of beads. Leaflets for them I made my daughter and I had all of this issue.
 

For the two trees will need:
Copper wire 0.3 mm in diameter.
Beads 2.5 mm in diameter, green and orange, 10 mg each.
Palm leaves
For the manufacture of palm leaf cut the wire length of 60 - 80 cm .
Leaf begin with beads, which have exactly the middle and fasten (see Figure 1). Bead 2 beads on one end of the wire and the second stretch to meet (Fig. 2), then string a series of 3 and 4 of the beads is similar. Doing about 9-10 rows of 4 beads, finishing next of the 3, then 2 and 1 beads.
On each palm leaves to 5.7 and 5-7 green orange leaves.
Building and Installing
Leaves collected in the form of palm trees and wires bolted to a wooden stick (length about 15 cm and a thickness of 0.5 cm .)
Wire and palm top wrapped with paper tape.
Then I stick wrapped with a thread of wool beige color. Winding to start from the top, thread a fit rovnenko one. At the bottom of the thread is fixed.
For planting trees, I took a tin can from under the bulls in tomateJ. The edges of the jars must carefully fold into the pliers so as not to hurt them.
I wrapped the bank and tied a double-sided adhesive tape the same yarn as the palm trees in the same way (thread to thread in a circle).
Take the plaster, diluted with water until the consistency of thick cream is poured into the jar. In the cast are inserted into trees and are optional (that's my bent in different directions). Do everything you need to quickly – plaster hardens instantly.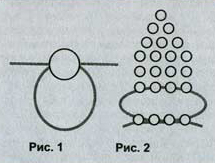 Frozen sprinkle gypsum sand, decorate with seashells and stones.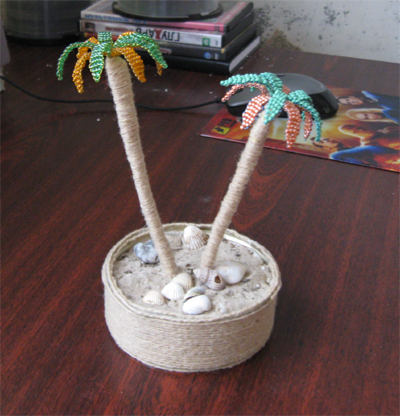 Palma is ready!