Hanging succulent garden
Another thing I got up to during my week long Making Friday was to make a hanging succulent garden in my studio. It all started with the impulse buy of a magnificent Burro's Tail from Aspen Flowers in Loop Street, and next thing I was googling macrame tutorials on the internet. Just look at how it turned out!
It all came together quite quickly, after I learned how to make a really easy macrame hanger that's not too desperately retro. Made from black cotton rope, it's actually quite elegant, I think. Here's a tutorial for you to make your own hanging garden.
STEP 1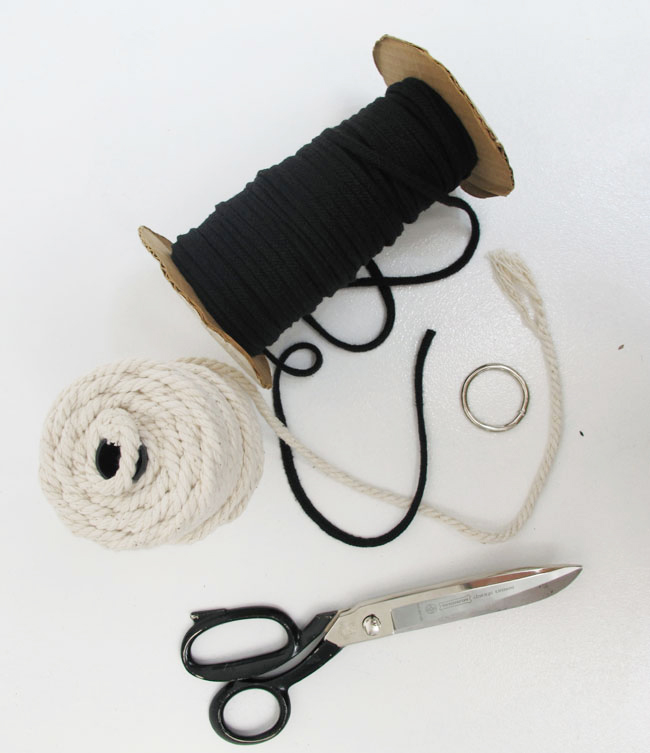 Step1: Get a metal or wooden ring, scissors, and some cotton or nylon rope.
I used a few different ropes in both cotton and polypropylene. The thinner cotton rope stretches quite a lot, but as I was planning to hang small, light pots, I wasn't too concerned. Heavier pots would work better with polyprop rope.
STEP 2
Step 2: Cut four equal lengths of rope.
I made these ones 2 metres long, but cut them longer if you're planning a long drop.
STEP 3
Step 3: Thread the four pieces of rope through the ring and situate the ring in the centre.
Now 8 pieces of rope are hanging down.
Tie a simple knot with all 8 pieces just below the ring.
STEP 4
Step 4: At this point, it becomes easier to work if you hang the ring from something like a door handle so that you can see how gravity affects your actions.
Measure down about 20cm and tie two adjacent pieces of rope together.
Do this all around so you have four knots at the same level.
STEP 5
Step 5: Take the rope below two of the knots and tie one piece of one to a piece of another about 10cm down. Do the same with the rope below the next knotted section, until you have eight knots all at the same level.
STEP 6
Step 6: Gather all 8 pieces together about 7cm down and tie them all up in a big knot. Trim the rope ends with your scissors, and if you're using polyprop rope, give each end a lick with a flame to seal it.
STEP 7
Step 7: Slip your pot into the holder, resting the base on the big knot at the bottom. Voila!
I tried a couple of variations, doing a repeat of step 5 to make a longer net for the pot, and also cutting very long pieces of rope so that I could make a double hanger too. Have fun!
Source: @skinnylaminx.com