Green crafts, Pants, Recycle, Sewing
|
Here is the finished version of today's project! Let's start this with a little confession - I have (had) a fear of making pants! I am not sure why but I thought they would just be awful to make and not turn out at all. And since this blog is to help me move forward with my crafting/sewing I though today would be a great day to get over that fear. I decided to do a very simple trace, cut, & sew
Green crafts, Pants, Recycle, Sewing
|
Recycling tutorial: Ruched Leggings (for girls and women) Despite what many people think, sewing with knits is fun and easy to do! Sewing patterns Knit fabrics are created the same way that knitters do their magic, with needles and yarn (which is why knits have stretch to them, compared to woven fabrics). However, these needles and thread are very small and are attached to industrial machinery. So in a way, we knitters and sewers should get out of the ring and do a
Pants, Sewing
|
Kids pants TUTORIAL and PATTERN for kids sewing patterns I've made these pants from all types of cotton and linen. For this pair I used a black/white cotton seersucker--one of my favorite fabrics of all time. Seersucker breathes well, drapes well, looks darling on kids, and just screams summer. Fabrics to use (* appx 1/2 to 1 yard of fabric, depending on the size): Cotton - all types Linen Seersucker (pictured above) Stripes/plaids Knits Corduroy Chambray Lightweight denim * Print off the pattern first, make any adjustments for your child's size, and
Easter's day, Holiday & seasonal crafts, Pants, Sewing
|
I really wanted to make the sock bunny that Heidi (from My Paper Crane) created, but I didn't have any of those fantastic red and brown monkey socks. What I do have is baby socks: tons of cute, mismatched, totally useless, never stay on baby socks. Now that my littlest is very much not an infant and too soon will be a toddler it seems kind of silly to keep all those teeny tiny socks. So I made a bunny out of them.
Green crafts, Pants, Recycle, Sewing
|
So you ready to learn how to create a scallop hem on any old pair of shorts? Lets do it! 1) Start with your shorts 2) Now fold the hem up a couple of inches with right sides together 3) Make your scallop stencil. As with my previous scallop hem project, I used contact plastic – that way you can stick it to your fabric, and have an easy guide! Lay out your contact plastic with the paper side upwards. I used a
Pants, Sewing
|
Crafts for kids:   How to Make Reversible Pants/Shorts (or Just About Reversible Anything With An Elastic) A few of you asked how I made the reversible shorts below.  Here is a tutorial for reversible pants.  Once you get the technique for hiding the elastic inside the two layers, you can apply it to anything - shorts, dresses, whatever! To make pants, sew two identical pairs using any elastic waist pattern you have.  Don't hem the pants, and don't do the elastic waist
Green crafts, Pants, Recycle, Sewing
|
Recycling ideas: Ten Ways To Abuse a Turtleneck turtleneck abuse tutorial: wide legged pants. (I know, I want a pair of those shoes too!)These children's pants use the body of the turtleneck. (Save the other parts once you're done cutting). I laid one well-worn Simplicity shorts pattern over the t-neck which is folded in half. I aligned the inner crotch seam with the double fold of the fabric so I won't have to go back and sew this seam up later.
Pants, Sewing
|
And a fun pocket too. Here's how: Using an existing pair of pants as your template, cut four from fabric. Remember to add room for seam allowances all around, and extra at the top for adding a casing for an elastic waistband. Gift presents for kids: sewing pants tutorial Sewing patterns and tutorial With right sides together, you will have two pairs like this. Sew each inner leg seam. Open up the parts you have just sewn and lay one on top of the other (right
Books, Dress, Needle crafts, Other crafts, Pants, Sewing, Skirts
|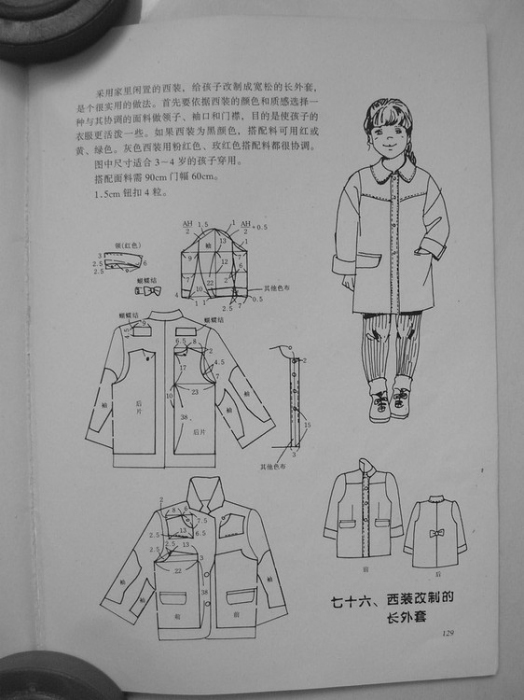 1. 2. 3. 4. 5. 6. 7. 8. 9. 10. 11. 12. 13. 14. 15. 16. 17. 18. 19. 20. 21. 22. 23. 24. 25. 26. 27. 28. 29. 30. 31. 32. 33. 34. 35. 36. 37. 38. 39. 40. 41. 42. 43. 44. 45. 46. 47. 48. 49. 50. 51. 52. 53. 54. 55. 56. 57. 58. 59. 60. 61. 62. 63. 64. 65. 66. 67. 68. 69. 70. 71. 72. 73. 74. 75. 76. 77. 78. 79. 80.