The simplest scheme of a flat crochet heart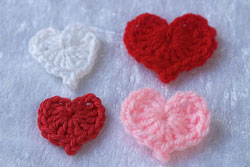 To associate a heart the size of 1,5-3 cm, we will need:
- The remains of red yarn (acrylic yarn obtained from a heart the size of 3 cm, of cotton – approx. 2 cm);
- A hook of suitable size;

Description of knitting:
3vp closed in a ring, then knit in a circle
3vp lifting 4s2n, 3ssn, pico from 1 loop, 3 CCH, 4s2n, 3vp, ss in the center of the circle.
Trim the thread and put it on the wrong side.
source: grukhina.ru